Customers who have made the Healthcare TV Paradigm Shift
We welcome your feedback about our products and services.
This is a great product and it cuts down cost of expensive TVs. I am very impressed by the product.
Zach Payne, Clinical Engineering, Box Butte Medical Center
---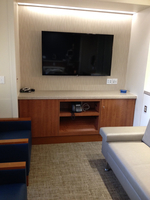 When we were approached by Lankenau Hospital in Wynnewood, PA to provide a 60" Large Screen Healthcare Grade Television for multiple VIP patient rooms, we were stumped. We then contacted Reinhold Baron and Imagenable for assistance in solving this customer need. After a few email correspondences, we were able to provide Lankenau Hospital a 60" LG television with healthcare capabilities by using the Paradigm Multimedia HC20. The installation of the product was plug and play which made installation quick and easy. The administrators at Lankenau are extremely happy and we would like to thank Paradigm Multimedia for providing us with a solution to help us accomplish this goal.
Eddie Traynham, ET Communications Solutions
---
The pillow speaker kit's are performing flawlessly . I have recieved no complaints during or after the installation . The feedback from our facilities is all positive. The savings from the kit installation has allowed us to expand our television upgrade project to the next level.
Walter Gant, Regional Plant Operations Director, Meridian
---
We were a bit skeptical at first as to how Paradigm's technology could save our customer money in purchasing TVs for their patient rooms and allow us to make a reasonable margin. The owner of Paradigm Multimedia, Reinhold Baron, made a good argument for us to try it so we did. Our customer loved it. What he really loved was the fact that he could purchase a larger TV for his rooms and still pay less than a healthcare TV. From our standpoint, the units were simple to install. And when we did come across an issue, it was quickly resolved over the phone with no time lost in the installation process. Thanks to Paradigm we now have a viable option to expensive hospital grade T.V's.
Kirk W. Lindsey President
---
...my sincere appreciation for your professionalism and commitment to our partnership.
Charbel Rizkallah, Operations Manager, Promedic KSA
---
"Working with Paradigm Multimedia has been a great experience. I service dialysis facilities that are looking for quality products and great value. The HC20 technology allowed my customers to stay way under their budget as they were trying to finally replace old CRT televisions. Great guys, working with Ed made everything really easy".
Keith Walker, Owner, Digital Creations
---